Today at the 11th hour, on the 11th day in the 11th month we will fall silent and remember those fallen for their country.
We give thanks to those that never returned home, for our today's, tomorrows and yesterday's.
Today I will remember my beloved Gramps, who served in the 2nd World War, who returned home and became my hero.
I will also be thinking of my 2 godsons both serving today, D flew to Afghanistan on Tuesday for his 2nd tour and G being deployed next month on his 1st tour..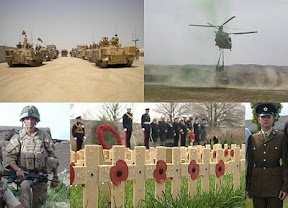 Brothers and Comrades in arms... Loving thoughts & thanks to you and all the troops serving today...
They shall grow not old, as we that are left grow old.
Age shall not weary them, nor the years condemn.
At the going down of the sun and in the morning
We will remember them.
- Posted using BlogPress from my iPad
Location:We will remember...